My sculpture is inspired by my heritage as a Jewish Feminist and by 6,000 years of stories, traditions, ethics, humor, and values in my culture. Working with materials that are still recognizably made from trees, or are mostly recycled, repurposed, and sustainable, keeps me grounded and reminds me of my connection to this blue planet, which hosts us all.
Lilith's Vessel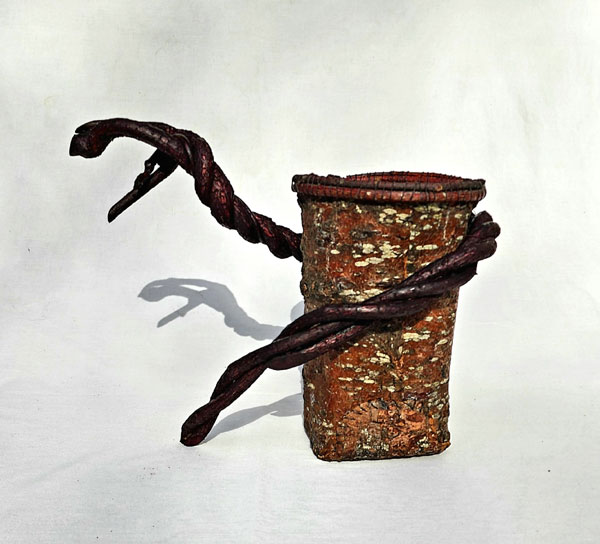 2023
L 18″ x D 9″ x H 14″
Pine bark, Wild vine, Osier dogwood, wood dye, waxed linen thread
Passover : 2023 … more coming soon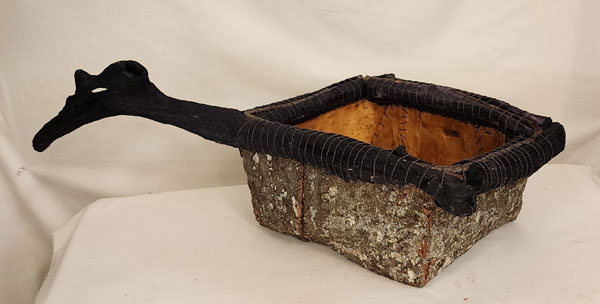 Passover Vessel #4
L 24″ x D 19″ x H 10″
Pine bark, hardwood, wood dye, waxed twine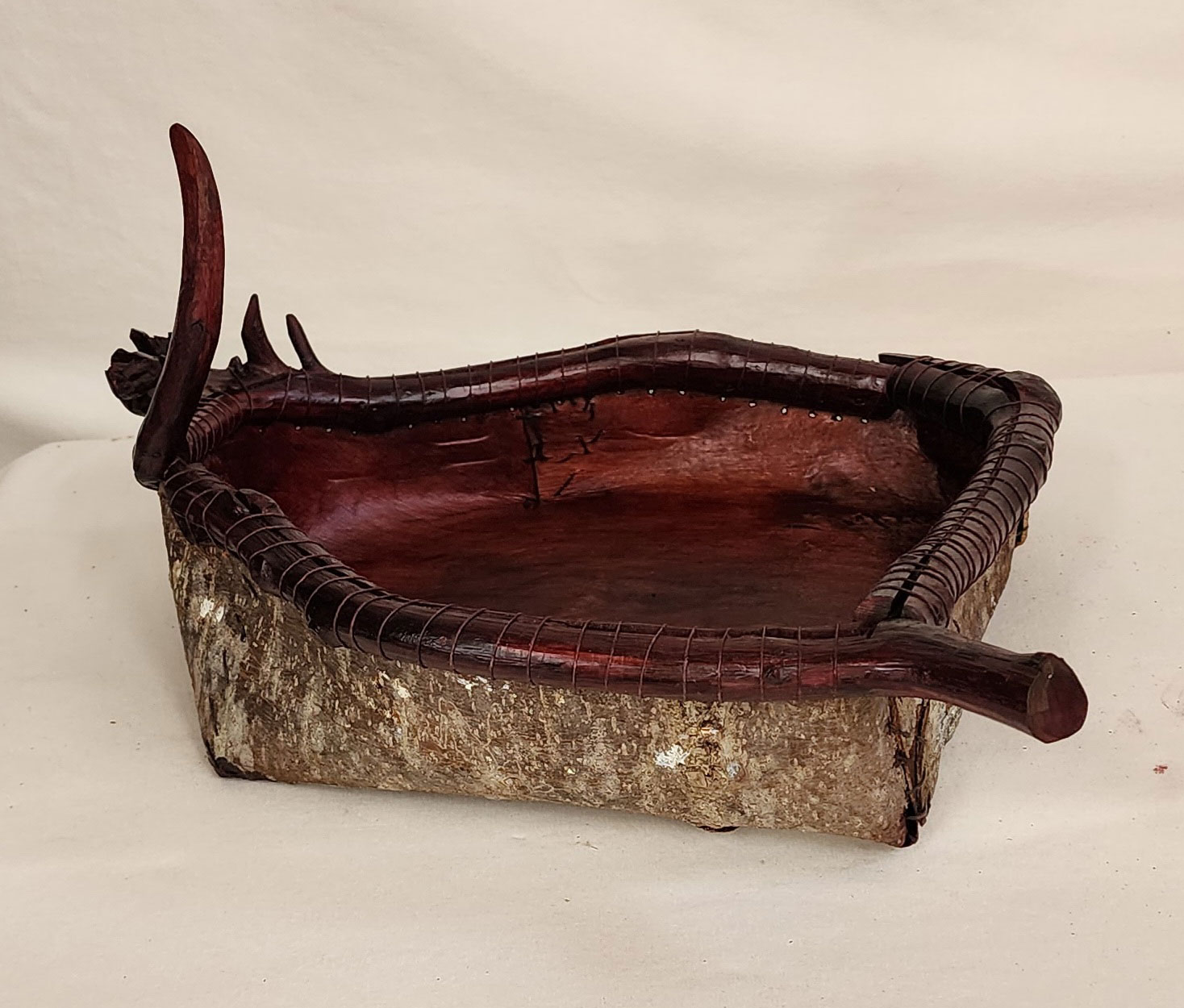 Passover Vessel #1
18″ L x 14″ D x 9″ H
Pine bark, Maple, wood dye, waxed twine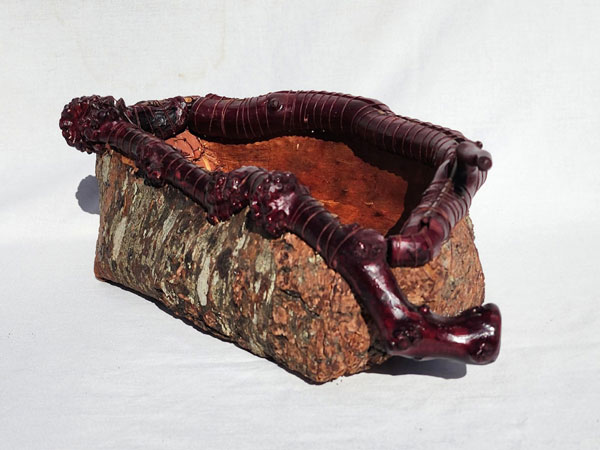 Vessel #11
2023
L 17″ x D 9.5″ x H 5.5″
Pine bark, Maple, Osier dogwood, waxed linen thread, wood dye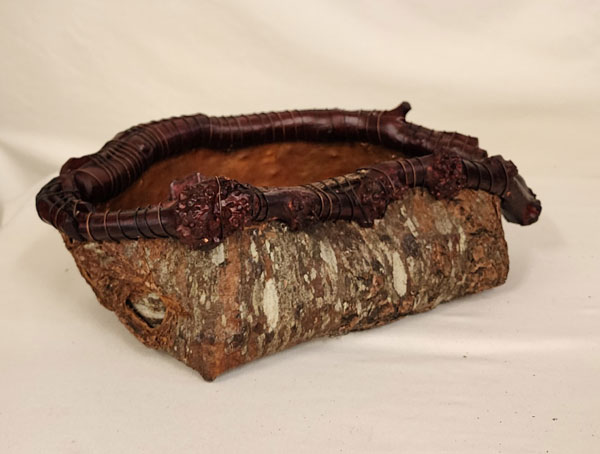 Ode to Ruth Bader Ginsberg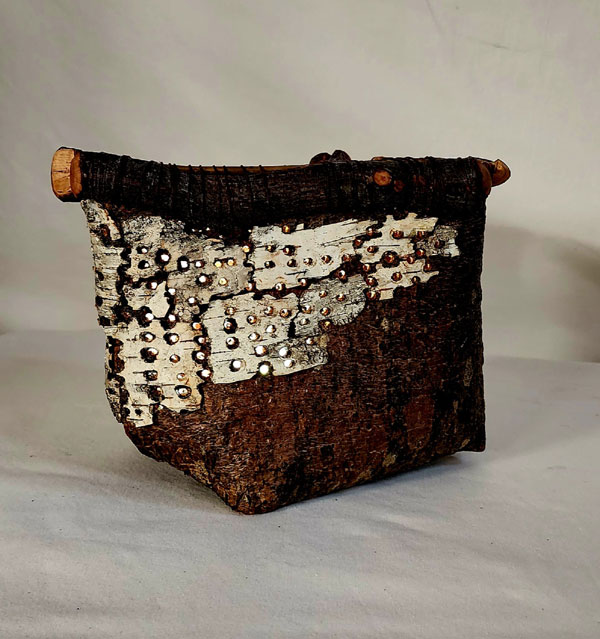 2021
L 9.5″ x D 7.5″ x H 7″
Pine bark, white Birch bark with holes pecked by sap sucking birds,
maple, wood dye, waxed linen thread, battery operated light inside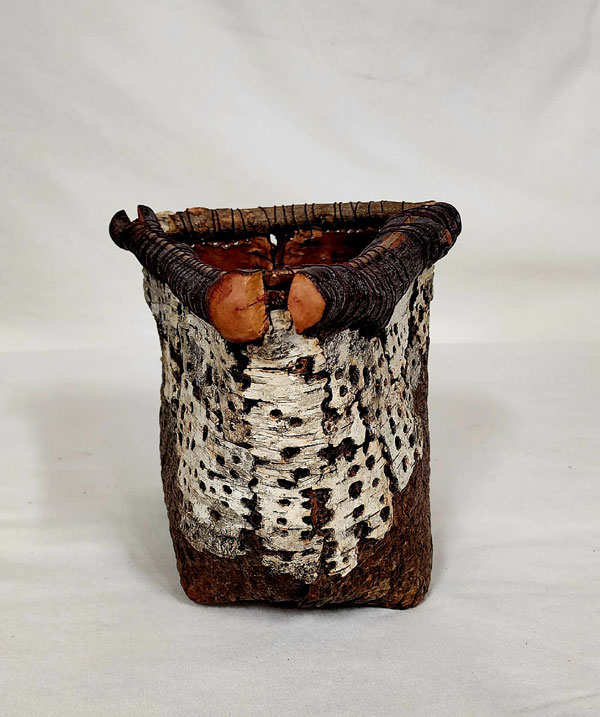 Schmita: a Covid response 2020
Our global environmental crisis has become increasingly clear. The period of seclusion created by the Covid 19 pandemic was like a Schmita, the ancient Jewish practice of allowing fields to lie fallow for one season every 7 years, to recover and to continue to produce for future generations. Covid allowed the earth to begin to recover a bit from the ravages of human excess.
In using the pine bark I have diverged from traditional methods which influenced me (see www.barkbasketsbyilee.com), to create my own forms. I am not Indigenous, and as a sculptor the material matters more to me than utility. Unlike the exquisite perfection and complexity of local Indigenous artists, I use torn pieces of bark and am pleased to show visible mending, because the earth needs mending and humans need mending, and hiding our brokenness prevents healing.
All the natural materials in this series are sustainably harvested, locally by the artist.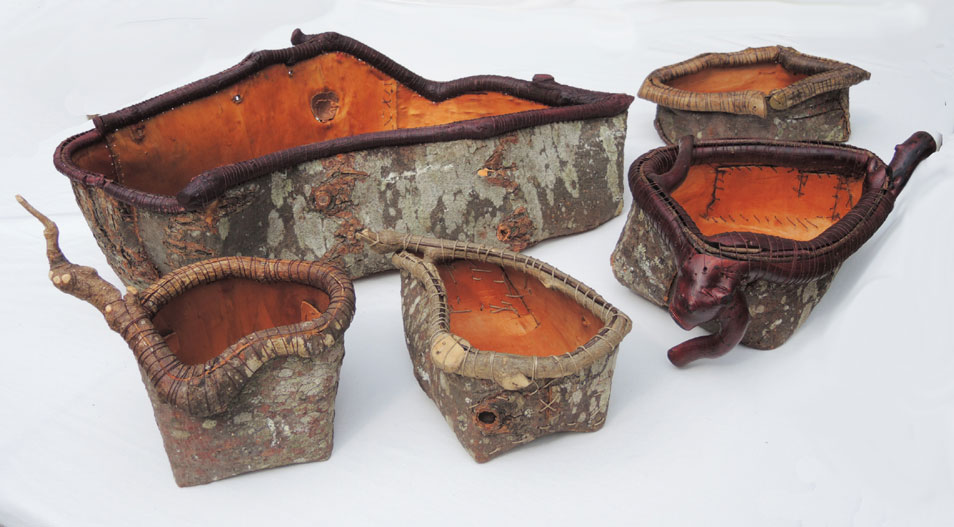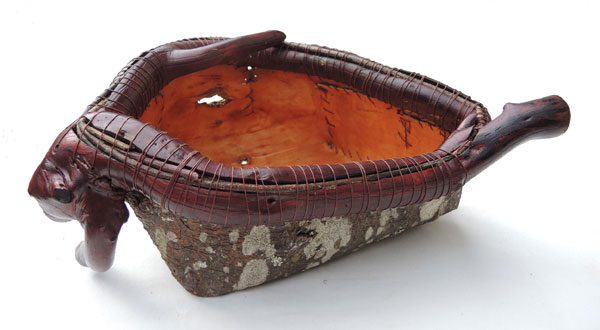 Schmita 2
Pine bark, maple wood, red osier dogwood, wood dye, waxed linen
17″ L x 10.5″ W x 6″ H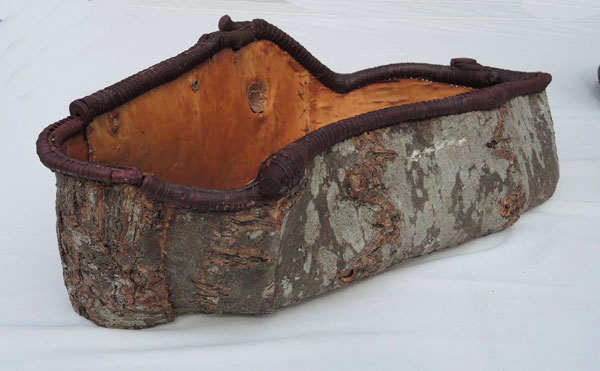 Schmita 3
Pine bark, maple wood, root, red osier dogwood, wood dye, waxed linen
30"L x 15"W x 10"H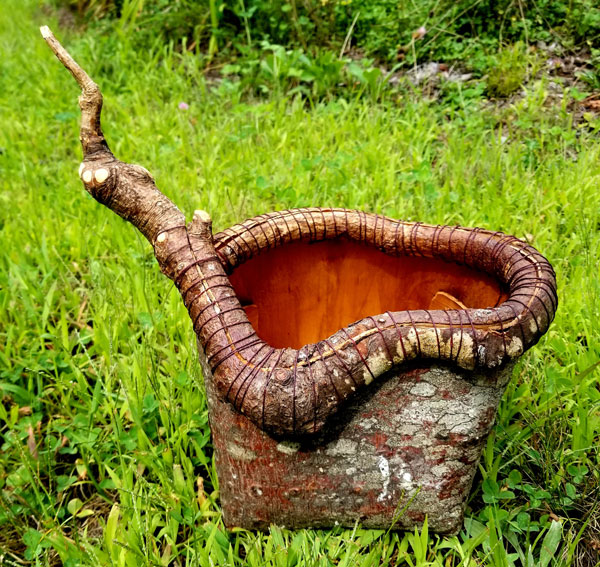 Schmita 4
Pine bark, hardwood root, waxed linen
12″ L x 8″ W x 11″ H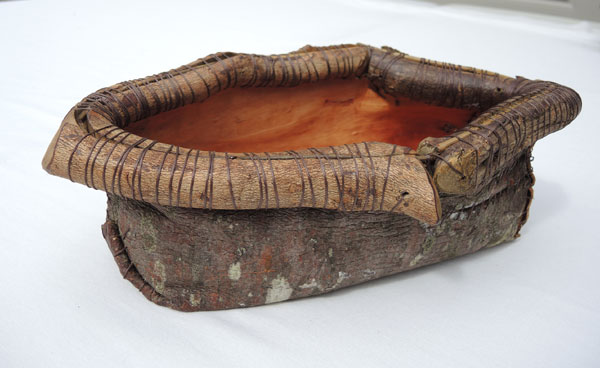 Schmita 5
Pine bark, mixed hardwoods and root, red osier dogwood, waxed linen
13"L x8"W x 5"H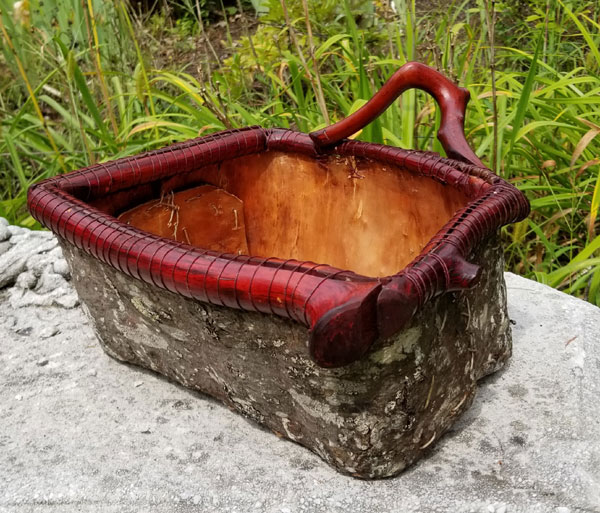 Schmita 6
Pine bark, maple wood, red osier dogwood, wood dye, waxed linen
14″ L x 14″ W x 9″ H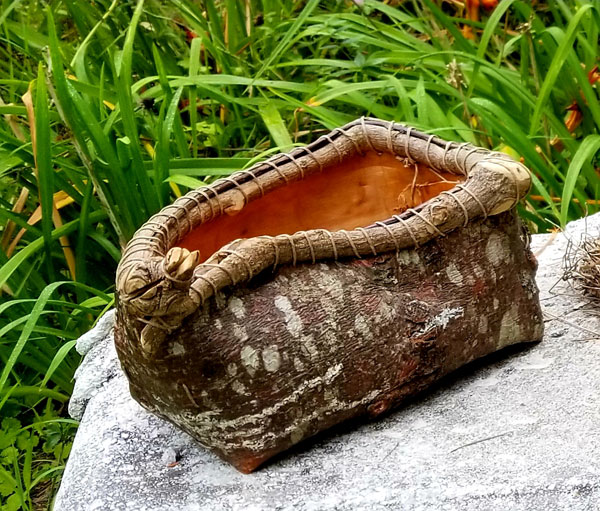 Schmita 7
Pine bark, roots, red osier dogwood, waxed linen
13″ L x 8″ W x5″ H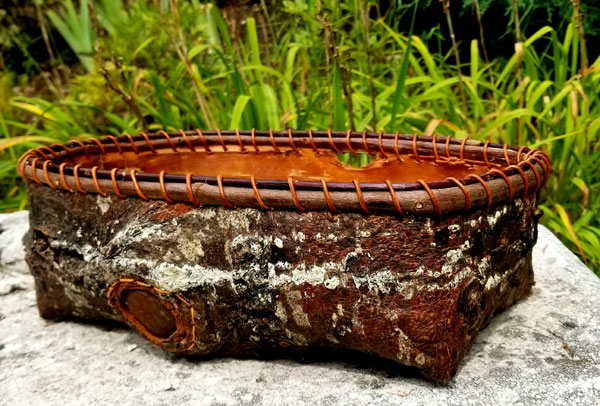 Schmita 8
Pine bark, maple. spruce roots, red osier dogwood, leather cord
14′ L x 9.5″ W x 5″ H
Tikvah: Still She Perseveres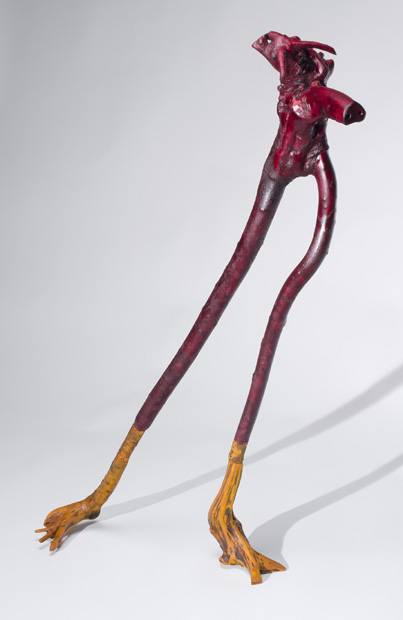 2019
3.5'L x 4'H x 1'W
Mixed hardwoods, stains
How can we keep hope alive to greet the world, while remembering/honoring/grieving the fear and losses of the past? The rear of the head of this piece is a face of terror and grief. The horned head is about War.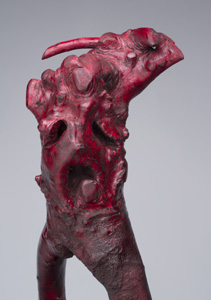 Photos by Jay York.
Origins of A People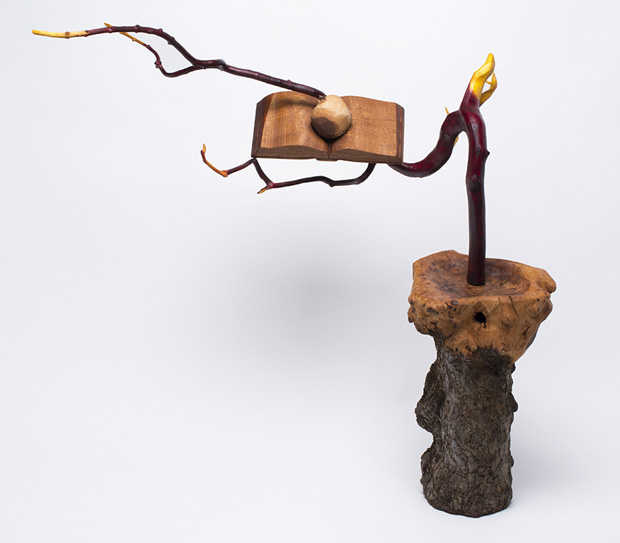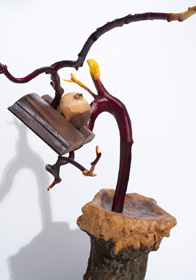 2019
45″W x 47″H x 23″D
Applewood, maple, mahogany, dyes.
Photos by Jay York.
Eye of the Beholder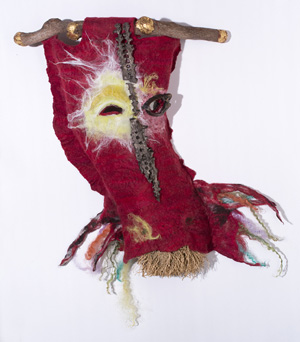 2019
24″H x 4.5″D x 18″L
Felted wool, wood bark pecked by sapsucker birds, found objects.
Photos by Jay York.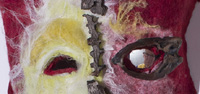 Lilith's Nest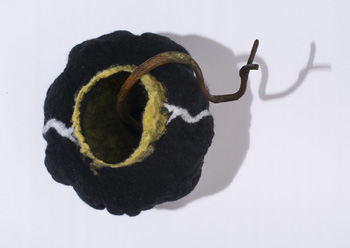 2019
12″H x 9.5″D x 12″L
Felted merino wool, rhododendron, applewood, dye.
Photo by Jay York.
Genesis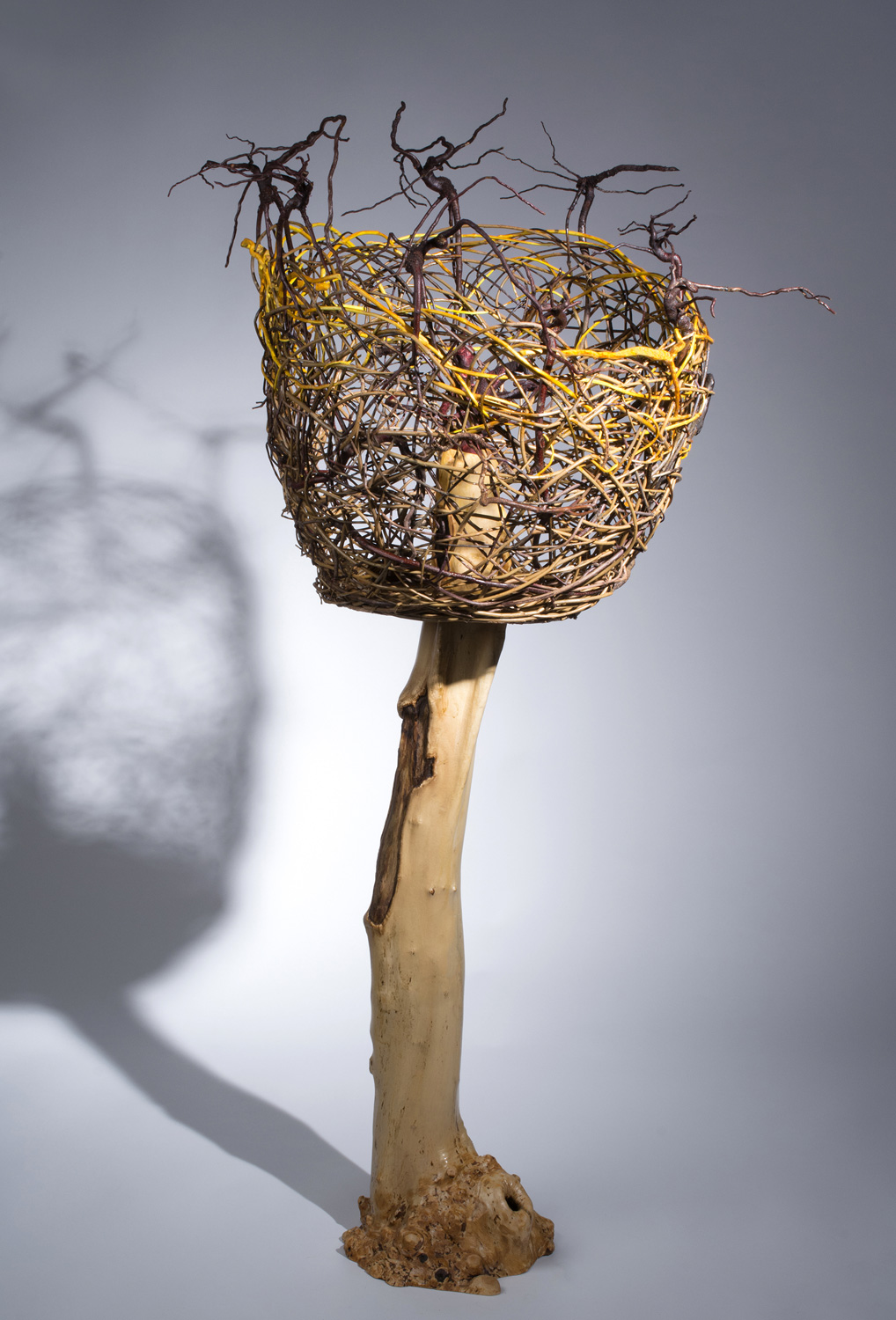 2018
29″W x 39″L x 5'H
maple stripped of bark, red osier dogwood, willow, birch, mixed roots,
winter bleached beech leaves, paper, stains, paint. Photos by Jay York.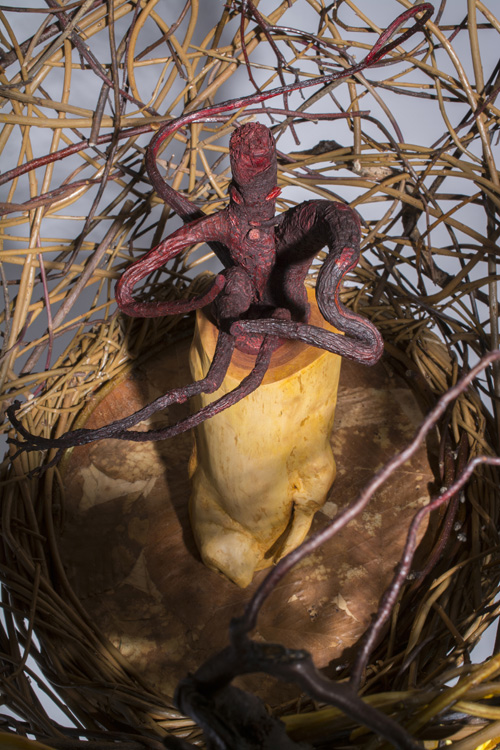 Brief Sanctuary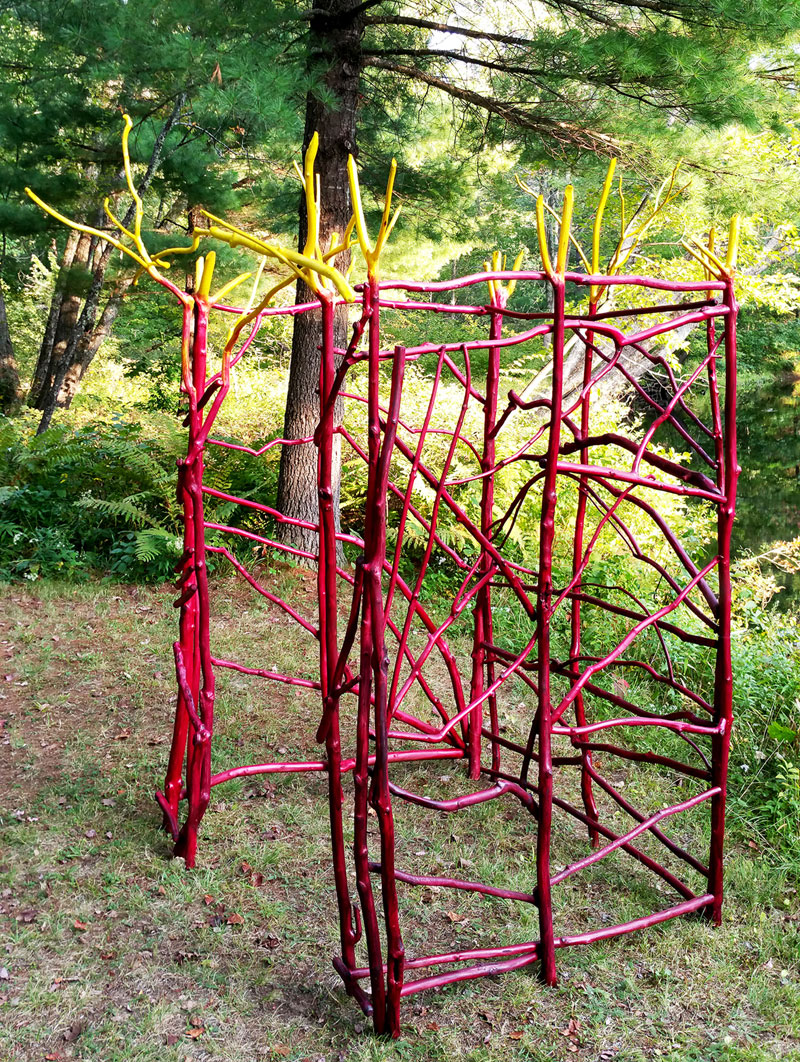 Measurements: 5′ L x 4.5′ D x 6.5′ H
structural framework: sustainably harvested maple, apple, and ash wood, dye
2017
Forgiveness: Selichot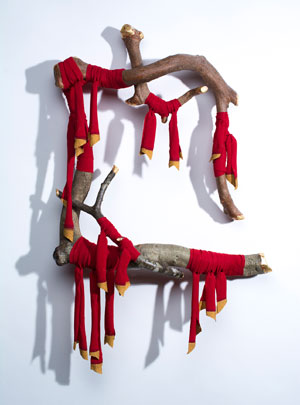 Measurements: 22″W x 24″H x 6″D
Mixed hard woods, fiber, gold leaf
2016
Selichot is a prayer for forgiveness, part of a series of rituals and actions at the beginning of the Jewish New Year, designed to encourage relationship mending on all levels. "Forgiveness: Selichot", uses ribbons from the 2007 installation "Teshuvah" to create a small sculpture about the preciousness of relationships and about the generosity of spirit that is needed to keep them flourishing.
photo: Jay York
Offering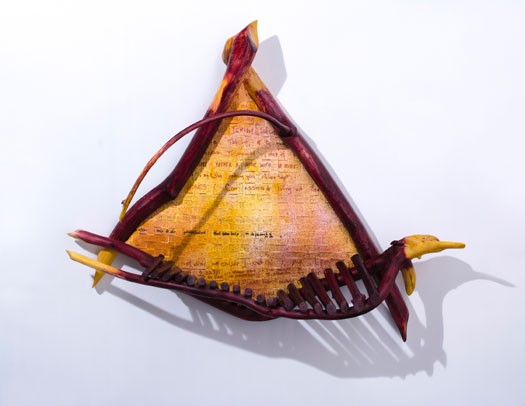 24″ W x 4″ D x 22″ High
sustainably harvested maple wood and dogwood, dyes, inks, thread, archival paper
2015
Visitors to the 2015 Maine Jewish Film Festival and to Art Kibbutz NY for the 2015 Shmita ARTFest in New York City, were invited to answer the following question: "WHAT ACT OF HEALING WILL YOU COMMIT TO AND OFFER TO YOUR CREATOR/ TO YOUR PLANET/ TO YOUR UNIVERSE?" Their answers are woven into the sculpture.
photo: Jay York
Deer with Ethnic Roots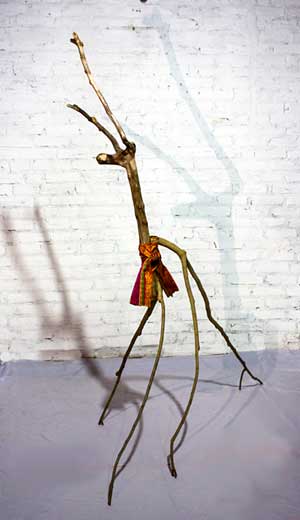 approximately: 5'H x 4'W x 3'D
locally harvested wood, locally woven traditional MUONG cotton cloth.
This work was part of my 2015 ECOArt Residency at Muong Studio in Hoa Binh, Vietnam. It references the presence there, to this day, of an ancient culture of human beings on land that once, long ago, belonged to deer and other animals. In the American/Vietnam war much forest was ruined. As an American, I am deeply sad for this loss, and for the effects of chemical warfare on Vietnam and on the planet we now share, no longer as enemies, but as co-inhabitants, who want the land and its creatures to flourish for many generations to come. Photos by Long Hoàng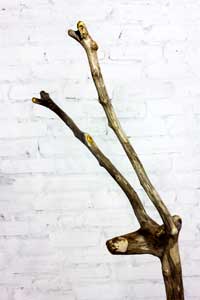 L' Shanot: Change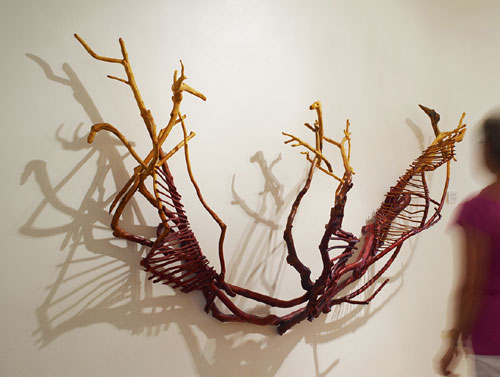 7′ W x 4′ H x 2.5′ Deep
mixed local, sustainably harvested hardwood, stained
2013
Based on the Hebrew letter shin and its myriad meanings and symbolisms.
photos: Aaron Flacke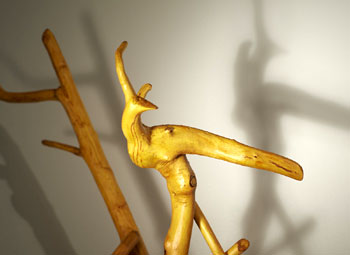 Dwelling Place framework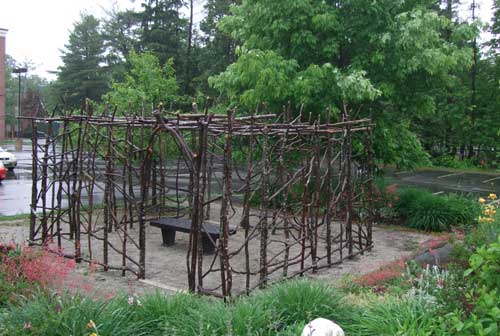 University of New England Gallery Garden 2012
Dimensions 9′ H x variable size walls
up to 14′ W x 15.5′ L
locally resourced mixed hardwood saplings
How Beautiful Are Thy Tents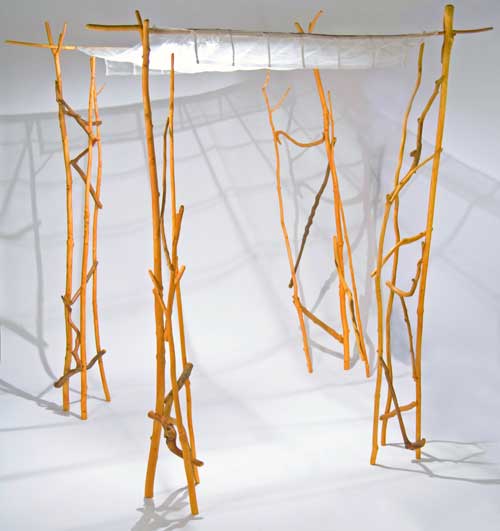 mixed hardwoods, dye, mixed fiber
7.5′ H x 7′ W x 6.5′ D
2012
above photo: Jay York
Friendship II : #2 & #6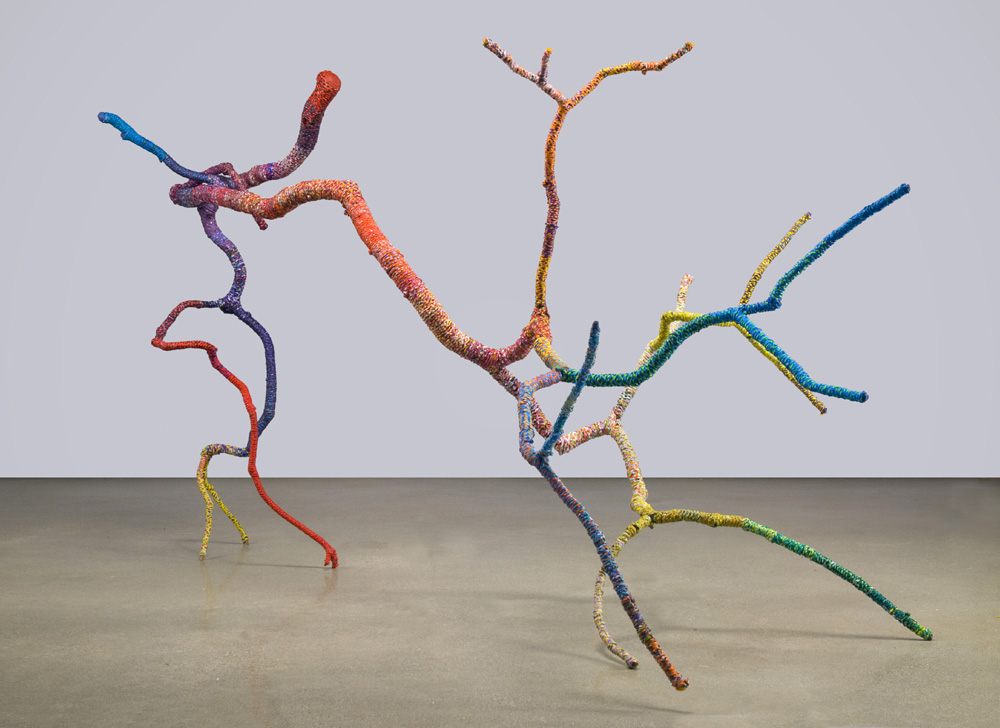 hardwoods; recycled plastic bags; cut, braided, bound
8′ L x 4′ W x 4′ H
2010 – 2011
Friendship II : #3 & #5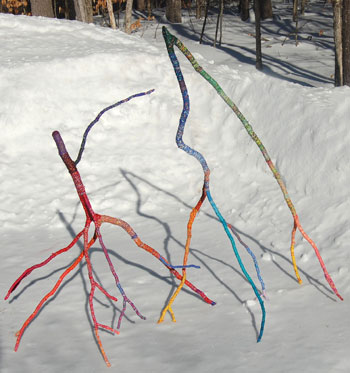 hardwoods; recycled plastic bags; cut, braided, bound
7′ L x 4′ W x 7′ H
2011
see also Public Art and Installation page
Shall We Fight or Dance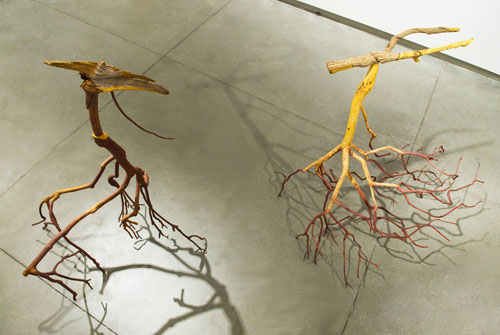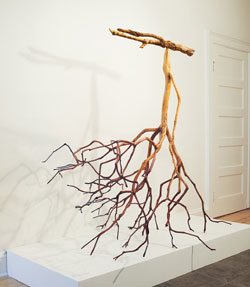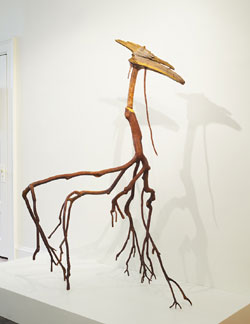 Rhododentron, pine, yellow barberry, stains
h 5′ x 9'10" w x 4'6″ d
2008
top photo: David Gillis
bottom two photos: Aaron Flacke
Chairs
Chairs whisper to me; they evoke ideas and memories. Chairs shape inter-actions between people; they have their own power. Most of us have had a favorite chair somewhere in our lives. Each of these chairs was inspired by a found object or material.
Tree Chair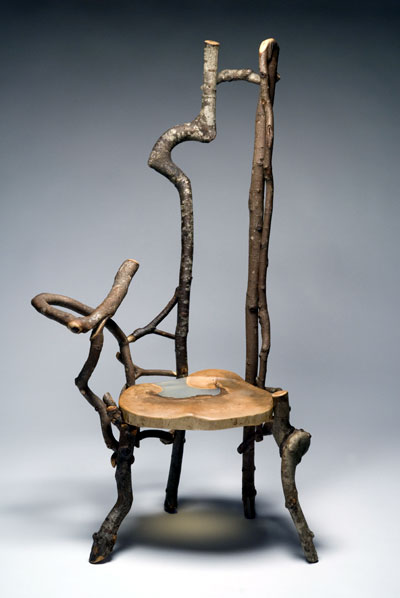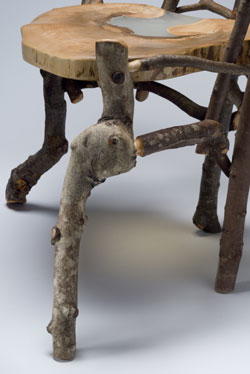 This is functional sculpture, recreating the experience of sitting in a tree, bark under your fingers – a tangible connection to the earth.
mixed local hardwoods and resin
h 57″ w 33″ d 28″
2013
The following four pieces represent stages in the life of the artist as a female.
Photographs by Jay York, unless otherwise specified.
Promise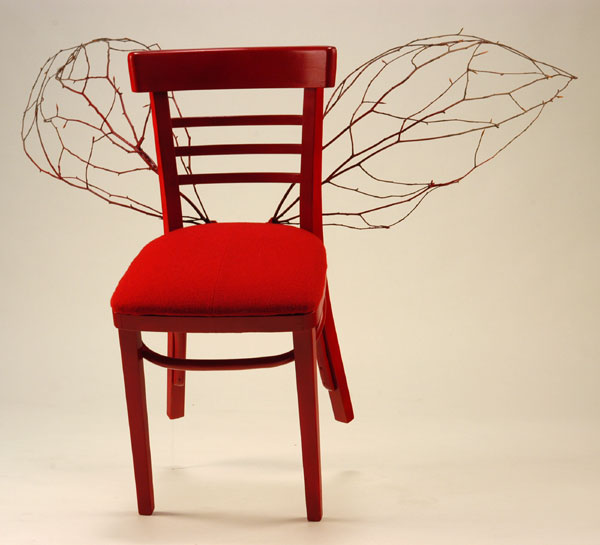 found chair, twigs, fiber, paint
h 31″ w 39″ d 40″
The hopes and power of Youth.
2006
'mad' housewife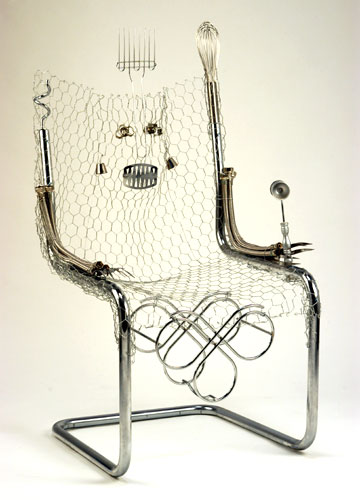 mixed metals, found objects
h 39″ w 21″ d 21″
The experience of being a Young Adult wife in a society, which still does not believe in equality. Being seduced by shiny gadgets, which are supposed to shorten the work, and to somehow make up for the isolation and fatigue which, no matter how rewarding the partnership, often come with the role.
2005
Matron Warrior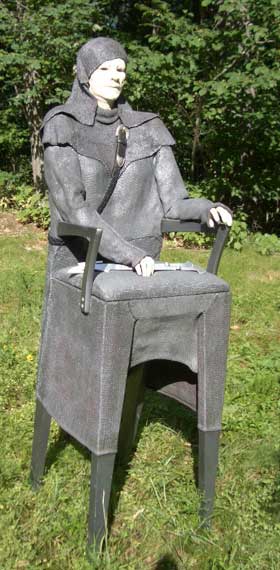 wood, fiber, plaster, paint
h 70″ w 23″ d 25″
The myth of the 'Maiden Warrior' is often about idealized beauty. When the maiden spends her whole life actually fighting for justice, how do we think of her as she matures? Here she is, not quite ready to retire, prepared to fight if needed, enjoying a well earned rest in the meantime.
2005
Photo by the artist.
crone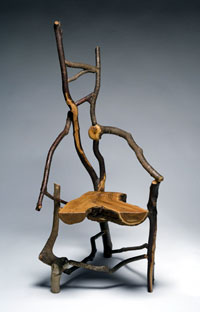 locally harvested oak, cherry, birch, walnut
h 51″ w 25″ d 23″
Wisdom, experience, self-confidence, and strength of the Elder.
2006
Family Dispossessed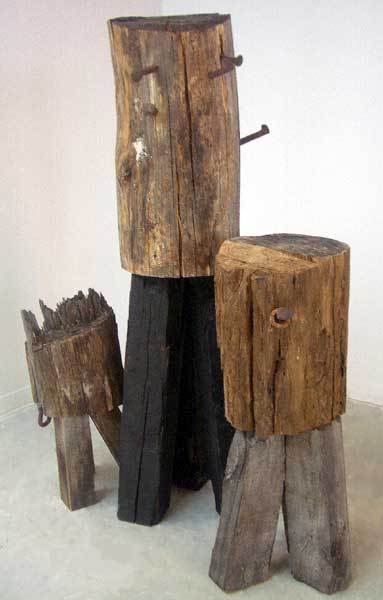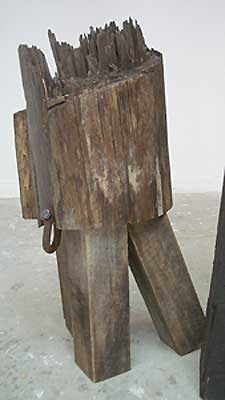 Objects found at RR tracks near homeless encampment: wood, steel, roofing tar, resin
5'7″ h x approx. 4'w x 3'd
Part of a series inspired by people who have experienced homelessness. For history and process see "Kaddish for the Dispossessed" 2007