I am a contemporary artist concerned with celebration and healing. I am deeply influenced by two key instructions for life, which are communicated to every Jewish child: "pursue justice" and "repair the world". My work uses tradition to connect people and inspire activism. As a community builder and artist-in-residence I enjoy working in close collaboration with organizations, community members, students, and other artists. Most of the materials I use are locally resourced and renewable or re-purposed.
Highlights

Solo exhibition, "From Branch to Midrash" Parsonage Gallery, September 23 – October 22, 2023, 8 Elm Street, Searsport, Maine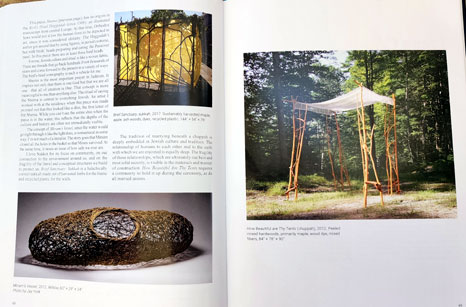 A four page spread of Asherah's work and interview with her by the author appear in Modern Judaica: Today's Makers, Today's Sacred Objects, by Jim Cohen, available February 2023 from Schiffer Publishers and at Amazon.com. A beautiful hard cover coffee table book with 53 artists from 6 countries, featured in 250 gorgeous color photos of work created in the last 30 years, discussing the significance of Contemporary Jewish art to modern social issues, life celebrations, and community building events from traditions new and old.
Awarded 2021-2022 One of Six Working Artist Grants from American Guild of Judaic Artists.
Jewish Art Salon Artist talk online December 15, 2020. Recorded and available on the Jewish Artist Salon Facebook or website.



"Woven Together" : BiCentenniel Fiber Art exhibit in the Gallery at Engine, 163 Main Street, Biddeford, Maine, USA. October, 2020.
Engine commissioned video interviews with the artists; available for viewing here………As an additional note: My mother went to fashion design school in her native Vienna for one year before the Holocaust swept Europe. Years later in New York she became a women's clothing designer for a mass production manufacturer with factories in Alabama and Mississippi. In Alabama we became good friends with one of the production workers and her daughter. We saw first hand the inequities and exploitation by that industry which continues today, often in other countries. We also felt the proud community of dedicated workers. Engine's show acknowledges all aspects of this legacy. My deep thanks to Curator, Kaitlin Thibeaut and Videographer, Jesse Galkowski.
Maine Arts Commission Individual Artist Grant award for 2019/2020
Maine Arts Commission has added Asherah to its Roster of Teaching Artists
Indo China Arts Partnership Grant Award to continue creating (for the second year) the international artist residency: Art and War and Genocide 2019
Asherah was awarded a 2019 Alumni Artist Residency, for the month of July, at the Maine College of Art in Portland, Maine, where she continued her exploration of materials, like wood and fiber, and of the topics of War and Genocide in art.

Dwelling Place Update: graced the lobby of the Maine State Museum. The selection of this piece recognized the role the original installation has played in Portland Jewish life over 7 years. It was redesigned and installed for one month in the Fall of 2018 as an introduction to the museum's first ever exhibition on the history of Jews in Maine.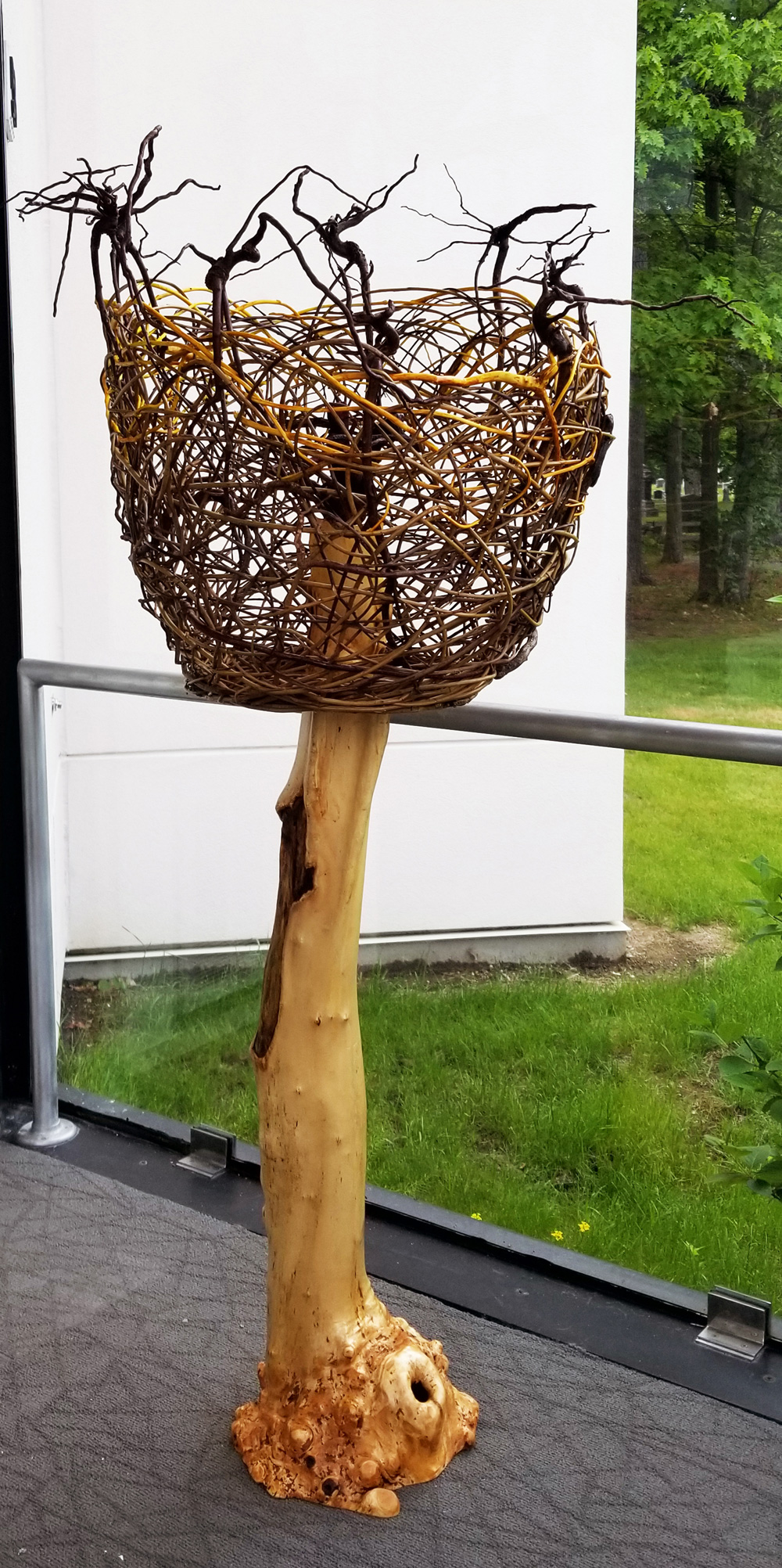 University Of New England Gallery, Sculpture Garden Invitational, June through October 2018. Opening reception June 15 4-6pm, Portland campus, 716 Stevens Ave.
"ARRIVAL": Works by Maine Immigrant & Refugee Artists; September to November 2017 in the Clifford Gallery, Waterfall Arts, Belfast, Maine.
"Dwelling Place" solo outdoor installation September 24 through October 15 2017 at the Jewish Community Alliance (JCA) new building, 1342 Congress Street, Portland. This temporary installation is now in its 7th year. It has been shown and utilized for public interaction at museums and campuses throughout The Greater Portland area.
A special event for students from all College and University campuses in the area was held in the structure, in celebration of the Jewish Tradition of Sukkot, which is about immigration, refugees, and looking for a home, while surviving the elements outdoors. Traditional music and food.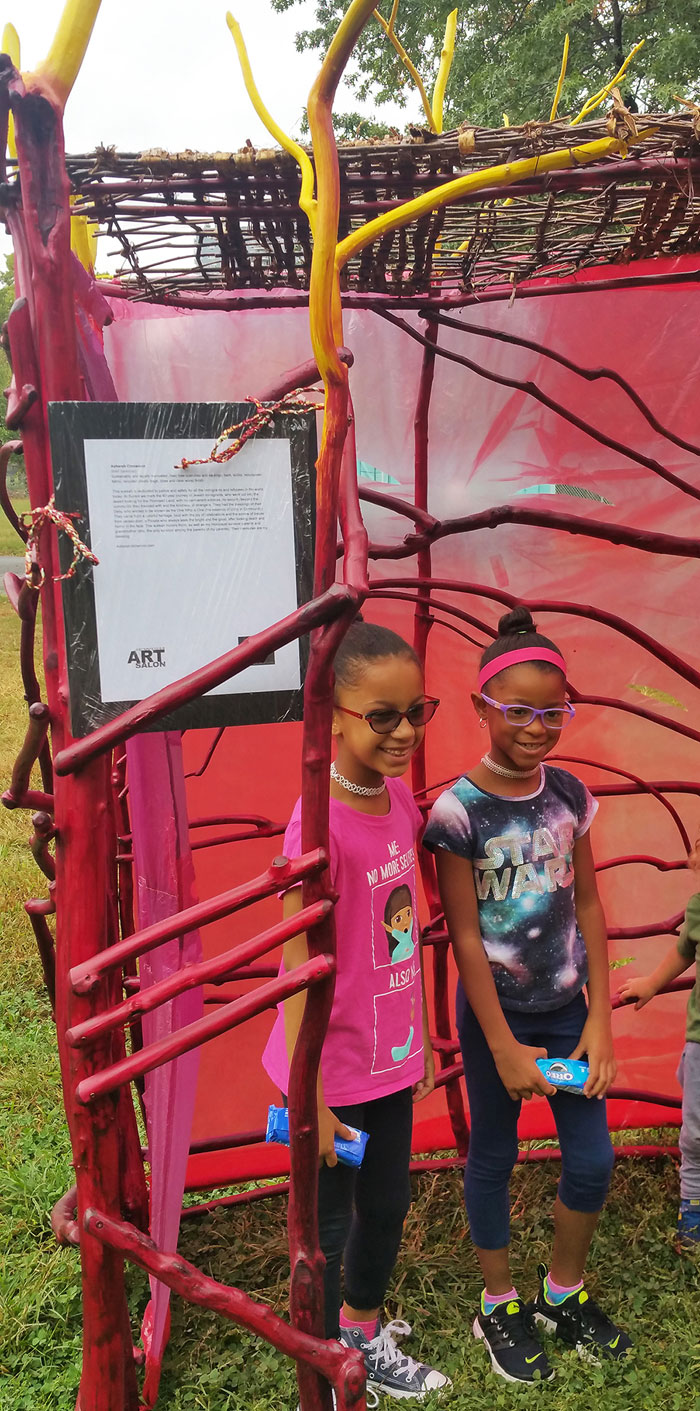 "Sukkah Wood", October 8, 2017 exhibition of 6 curated temporary installations in Inwood Hill Park, Upper Manhattan, New York. Sponsored by Chabad of Innwood and Art Kibbutz New York. Winner of $1,000 award for design and fabrication.
Portland Magazine, September/October 2016, Annual Art Edition, has recognized a group of 30 Maine sculptors, including Asherah Cinnamon. p. 70.
Dimensions of Spirituality: Rosh HaShanah, Yom Kippur and Sukkot University of Southern California, Hillel Art Gallery, Los Angeles, through December 2016
"Dwelling Place" Sixth annual solo interactive outdoor installation and Sukkah. Maine College of Art, Casco Street, Portland, Maine. October, 2016.
Jewish Women's Foundation of New York Fellowship recipient for Art Kibbutz New York residency and teaching, 2016
Fellow, Jewish Art Salon, 2016
University of New England Gallery, Annual Invitational Sculpture Garden exhibition Opening Reception Friday June 10, exhibit goes through October.
Muong Studio Vietnam, Advisor to ECO Art Vietnam Collaboration. 2015/16
2015: Muong Studio, Vietnam Artists' Collaboration Residency: women in Vietnam and the USA.
"Sacrifice", invitational group exhibition, Jewish Museum of Art, London, England, 2015. See "Offering"
July/August 2015 Art Kibbutz New York, Governor's Island Schmita Artist Residency, Festival, and Exhibition.
May 28 through July 5, 2015 "Maine's Synagogues", group invitational exhibition, Maine Jewish Museum
Linda and Joel Abromson Fund Award 2015
Oregon Jewish Museum Sukkah PDX 2014 Exhibition, Portland, Oregon.
Jewish Enviro-Artists Have the Whole World in Their Hands by Simi Horwitz (published 9/21/14)
A link to an article in "The Oregonian", October 8, 2014
July/August 2014 : EMMA International Collaboration at Ness Creek, Saskatchewan, Canada.
Work included in a group show of Jewish Environmental Art,
July 27 – August 15, 2014 on Governor's Island, Colonel's Row Building 406A, New York, NY
Art Kibbutz NY – International Jewish Artist Colony : The Jewish Waltz with Planet Earth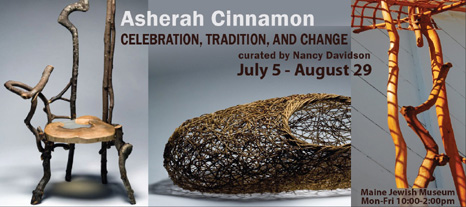 Maine Jewish Museum, Portland, Maine, retrospective exhibition, includes pieces not shown before and new work: CELEBRATION, TRADITION, AND CHANGE, 2013
Marc Epstein, award winning author and professor of religion and culture at Vassar College, has said of this show "Cinnamon accomplishes simultaneously in her current show at the Maine Jewish Museum what some artists dream of doing for lifetimes and never accomplish.. in creating her powerful, poetic, and moving pieces, Cinnamon is able to give back to the earth-melding the intensity of nature in all its wildness and unpredictability with the nurture of an ancient tradition, some six thousand years of story-telling.. She is a storyteller through ritual, and a ritualist through the telling of stories." For expanded review, click here.
Art Kibbutz New York, International Artists Colony: THE JEWISH WALTZ WITH PLANET EARTH. Shemah: Listen. A collaborative installation based on the Hebrew letter Shin launched at Eden Village Lake in Putnam Valley, NY.
HEALING ARTS & CREATING SPACES FOR EMOTIONAL RENEWAL InterProfessional Education Collaborative at University of New England, Portland, Maine. October 2011.
VISUAL ARTIST IN RESIDENCE for the International Affairs Conference at Star Island, NH, July 2011.
LINDA AND JOEL ABROMSON FUND AWARD 2011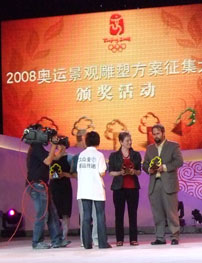 Asherah Cinnamon and Scott Fuller receive OLYMPIC FIVE RINGS AWARD, International Olympic Landscape Sculpture Competition and Exhbitions, Beijing, Summer 2008.
"We were honored to meet and receive our award from survivors of the May12 Earthquake, whose determination and heroism were graphically acknowledged during the Ceremonies. I am also humbled and pleased to have had this opportunity to get to know wonderful and talented sculptors from all over the world. This competition is a model of peaceful international dialog in the true spirit of the Olympics."
— Asherah Cinnamon